MUSICIANS, DANCERS, AND PERFORMERS GATHER FROM ALL OVER THE CARIBBEAN FOR TEN DAYS OF MUSIC AND DANCE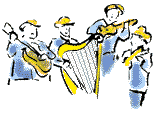 image courtesy mexcom.net
One of Mexico's best-kept secrets is the steamy Afrocaribbean Music Festival held each July in the Mexican port city of Veracruz. For the last eight years the Veracruz Institute of Culture has organized this festival to highlight and bring together the essence of Afro-Latin music and culture. This festival is amazingly rich and diverse, hosting musicians and dancers from Cuba, Puerto Rico, Brazil, Jamaica, Colombia, Venezuela, The Dominican Republic, Panama, Mexico, the USA and other nations.



For two long weekends the streets of the city reverberate to the rhythms of rumba, son jarocho, merengue, son montuno, cumbia, samba and candombole, to name a few. Among the hundreds of performers present at last year's 8th annual festival were musicians such as Ruben Blades (Panama), William Cepeda (Puerto Rico), Tanya Libertad (Peru), Oscar Chavez (Mexico), Murah Soares (Brazil), Victor Lay (Cuba) and groups such as Olodum (Brazil), Yoruba Andabo (Cuba), Las Estrellas Cubanas (Cuba), Teatro Negro de Barlovento (Venezuela), and Chuchumbe (Mexico).



This incredible gathering of African-influenced Latin music is unequaled anywhere and should not be missed by lovers of tropical rhythms. The mesmerizing melodies and rhythms of the festival combined with the sizzling atmosphere of Veracruz will, without doubt, enrapture you. We at Manos de Oaxaca have researched these pleasures, and would be delighted to share them with you in July, 2002. As the festival for this year brings itself together we will firm up our itinerary. Meanwhile, we have gathered on these pages an introduction to the culture and environment of this coastal area, a sampling from last years festival offerings, and our own tentative trip itinerary. Come back, as these pages will evolve as the festival plans pick up momentum.